Governor Nyesom Ezenwo Wike of Rivers State on Friday hosted The Sultan of Sokoto, His Royal Eminence, Alhaji Muhammadu Sa'ad Abubakar.
Sultan visited the Ada George, Port Harcourt residence of Wike shortly after he arrived at the Port Harcourt International Airport, Daily Trust reported.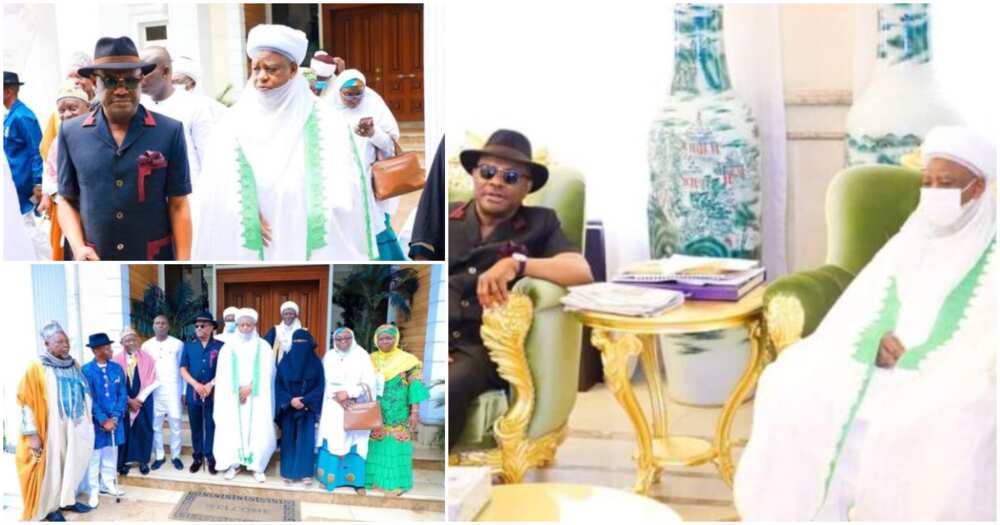 The duo held a closed-door meeting
The two prominent leaders held a closed-door meeting.
Abubakar was in Port Harcourt to declare open the Federation of Muslim Women's Association in Nigeria (FOMWAN) 37th Annual National Conference.
Nigerians react
Nigerians took to the Facebook page of Legit.ng and reacted to the development.
Taye Moore said
"My respect for this guy grows everyday.. He knows how to cross bridges in politics.."
Dan Anwana
"This is the first time, such a thing has ever happened in this part of the kantry
"Wike I salute you."
Thomas Onwe Ogoh urged
"Wike no gree o, the cheating done too much."
You & The Law noted that
"He would have been a good candidate for the PDP."
Joshua Matthew stated
"If the sultan is interested in peace, he should tell Atiku to resign bcos 2023 is the turn of Southern Nigeria."
Essang Elijah Francis opined
"Ayu must go there's no two way about that let the sultan carry the message back to his people."
Tim Akins maintained
"Wike na man you be….. For standing his ground , sultan has to leave sokoto and come and see him in Rivers.
"While others southern politicians go about with their busy body, selling their birthright."
Olatunji Olorunsaiye said
"He is the true lion of Niger Delta, until he aligns with someone ither than OBIDIENT. "
Greg McGregor wrote
"These northern elites will always do everything to further the interest of their people, it goes without saying that the Sultan went to talk to Wike to support Atiku."