---
Naira scarcity: Videos of sad experiences of Nigerians over CBN new notes policy
The scarcity of naira in Nigeria has pushed many Nigerians to the wall of taking the law into their hands
Some Nigerians staging protests have attacked banks and ATMs while some have started printing their own currency to spray at parties
While many now pay higher fees to POS operators, someone was allegedly shot during the protests in Abeokuta, the Ogun state capital
The current naira scarcity in Nigeria has dug dip the emotions of many Nigerians, leading to a slow economic drive, many have been denied access to their money while others buy their country's currency at high rates from POS operators.
CBN governor, Godwin Emefiele in November 2022, unveiled the new N200, N500 and N100 notes and insisted that the old ones will stop being legal tender by January 31, 2023. The deadline was subsequently extended by 10 days following much pressure.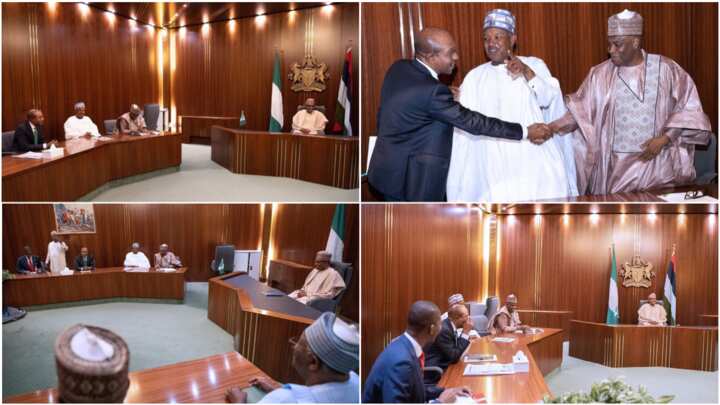 In between, many tragedic moments have been experienced by Nigerians and they can be seen in different videos shared on social media.
Some of them are listed below:
Officer shot protester
One of the most touching moments so far is the video of a protester who was shot by an officer during a protest against the scarcity of the country's currency at Sapon in Abeokuta, the Ogun state capital.
See the video below:
Nigerians design their own currency to spray at party
Some Nigerians have been captured in a viral video spraying a currency that carries their image, the idea is believed to transfer the agreed amount of money to the musician.
See the video:
Naira Scarcity: Customers cook, eat in bank
Nigerians cooked noodles and eat in a bank in Aba, Abia state, after spending long hours to get their money.
See the video below:
Bank staff jump fence to run for their lives
Following the inability of the bank to provide the people with their monies saved in the bank, the staff of the bank had to jump the fence to run for their dear lives.
See the video here:
Protesters Vandalise ATMs
In Ogun states, some of the protesters of the naira scarcity attacked banks and vandalised some Automated Teller Machines.
See the video:
Naira Scarcity: Former attorney reveals real issue in CBN versus supreme court
Legit.ng earlier reported that the former attorney general and commissioner for justice in Imo state, Chukwuma Machukwu-Umeh, has faulted the supreme court ruling on CBN's naira redesign policy.
Machukwu-Umeh disclosed that the CBN acted within the law, adding that Godwin Emefiele, only needed the President's approval to redesign the currency.
According to the senior advocate, setting the deadline to retrieve the old naira notes from society is within the prerogative of the CBN.
Source: Legit.ng