---
Kara Bridge: "Bitumen-surfaced roads culprits of autocrash" – Robert Azibaola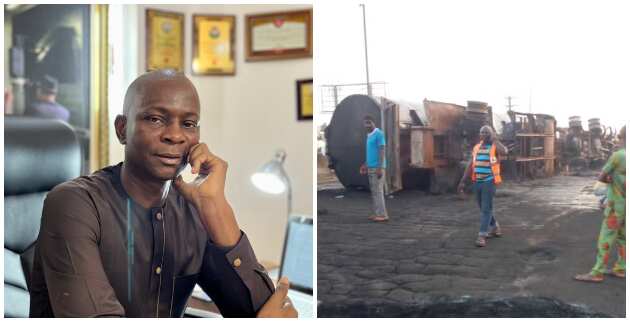 Robert Azibaola, a topnotch Nigerian engineer who has the vision to champion the production of the first set of electric cars and caterpillars on Friday, February 10, spoke with Legit.ng on how road accidents can be curbed across the country against the backdrop of the Kara Bridge tragedy in Ojodu Berger, Ogun state, on Thursday, February 9.
The front page of the dailies today shows heavy-duty equipment wreaking havoc on the roads.
Sir, you are experienced in this field, what is your message to the federal government in curbing this recurrent menace?
"Nigeria is a heavy rain zone with a lot of near-surface underground acidic running water that corrodes bitumen, the primary material for surfacing roads in Nigeria which we copied from the Western World with different terrain and environmental conditions that keeps bitumen fairly stable.
"To build long-lasting roads in Nigeria, we need our own homegrown technology that suits our environmental conditions and resists acidic rains, underground water, etc. As long as we continue to build bitumen-surfaced roads, they will continue to erode and vehicles will continue to get stuck."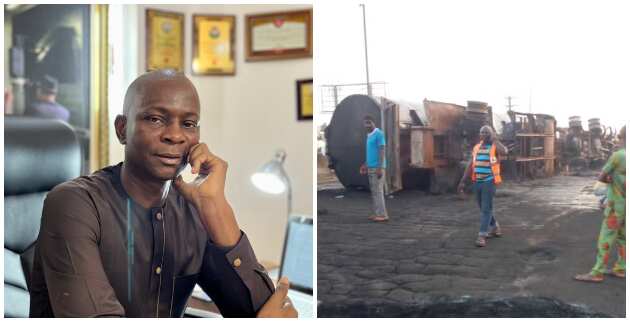 Azibaola believes bitumen-surfaced roads are the major cause of auto crashes in Nigeria
(Photo: Robert Azibaola, @followlastma)Source: Facebook
Despite Nigeria's status as the 'Giant of Africa', why is it taking time to go electric; launch, and produce electric machines, and vehicles? Was this on the agenda in the meeting with executives and members of the Nigerian society of Engineers in Abuja?
"The discovery of crude oil left Nigeria to believe it was 'very rich' and had no business in focusing on technology.
"Several years later, we got to the point of no return. This has dealt a blow to our psyche. It's only a deliberate effort by individuals like me that could make homegrown technology advancement possible."
Recently, Azibaola hosted the executive and members of the Nigerian Society of Engineers – Headquarters, Abuja Branch, to a specially convened Technical Visit of Zeetin Engineering factory, Idu, Abuja.
8 people dead as container falls on commercial bus in Lagos
No fewer than eight people have been confirmed dead when a truck conveying a 20ft container landed on a commercial bus in Lagos.
Legit.ng gathered that the accident occurred at Ojuelegba Bridge opposite the Federal Fire Station.
Investigations revealed that the bus was picking up passengers when the truck lost control and fell over the side of the bridge.
Source: Legit.ng